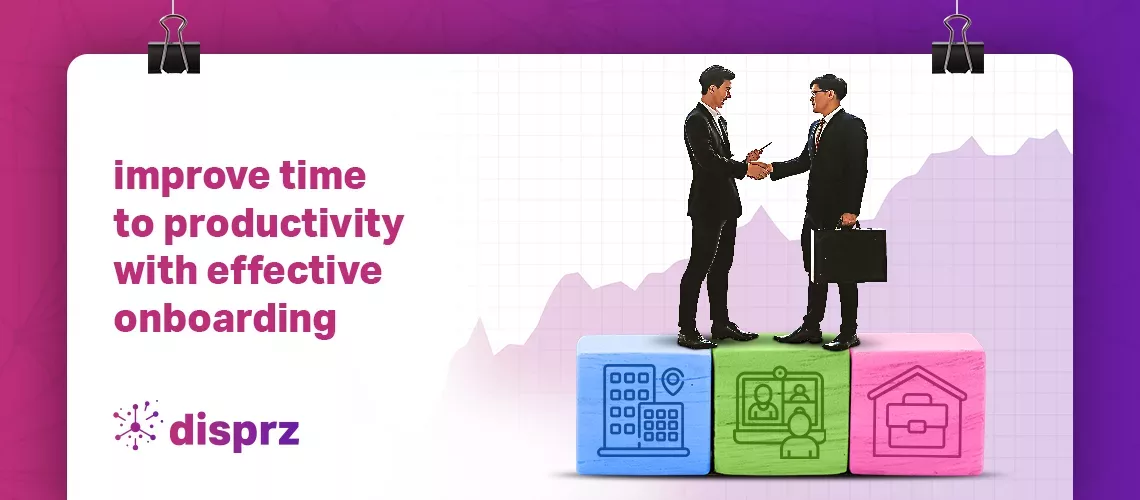 Guide to New Employee Onboarding: In-office, Virtual, And Hybrid Onboarding
Discover how your new employee onboarding strategy engages employees. Learn the best practices for in-office, virtual and hybrid workforce onboarding.
Employee Upskilling - A Detailed Blueprint For Building A Skills-Driven Learning Culture
After investing valuable resources and screening multiple resumes, a company finally hires a proficient employee amidst the ongoing war for talent. However, within six months, the new hire feels lost and confused, and eventually quits the company.
Sound familiar?
Ineffective new employee onboarding processes can usher your new hires out the door without even giving you a chance to recoup the cost of recruitment. In fact, you might have to expand your budget to start the recruitment process all over again.
Moreover, "The Great Resignation" shows no sign of slowing down, and poor onboarding doubles the possibility of a new hire seeking a new opportunity.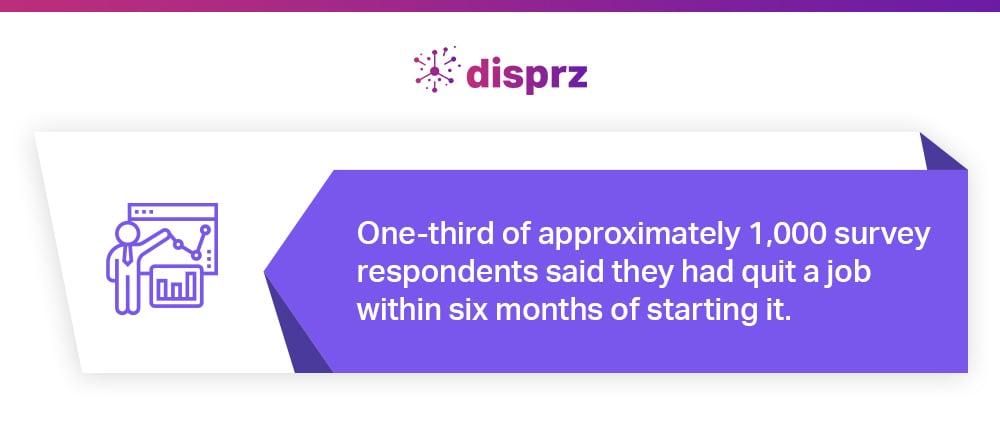 A successful employee onboarding program can result in employee satisfaction and help reduce the attrition rate. It is a critical step towards improving time to productivity. However, unfortunately, several organizations don't take this critical step. In fact, most confuse it with orientation. Integrating a new hire into the company culture is just 20% of the entire onboarding process. Let's clear the air and dive deep into employee onboarding for an in-office, virtual and hybrid work culture.
What is employee onboarding?
New employee onboarding is a process that helps a new hire get familiarized with the company, transition into the new role smoothly, and quickly become an efficient contributing member of the team. A well-planned onboarding process can empower the employees to get to speed quickly and become a valuable resource to the company. Successful onboarding can make a big difference to employee experience. Hence big names in the business world are focusing on delivering a superior onboarding experience.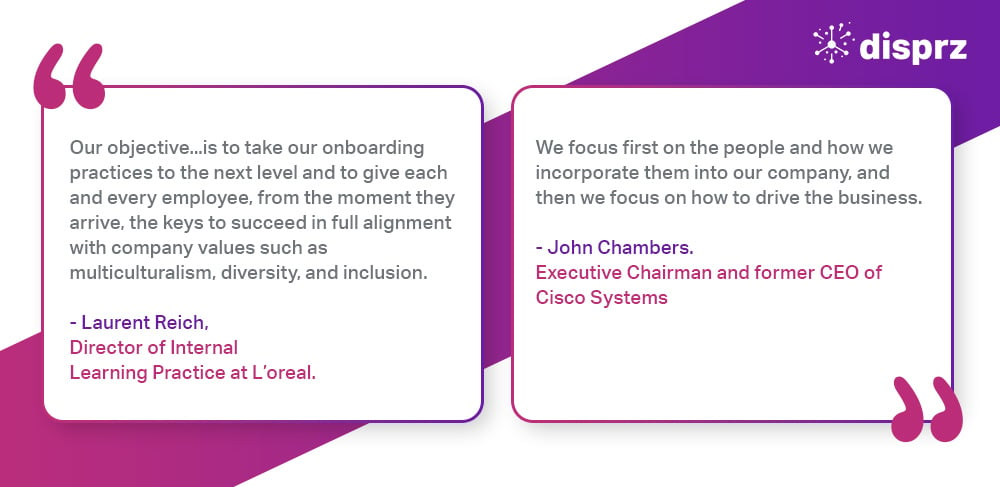 Three phases of the new employee onboarding process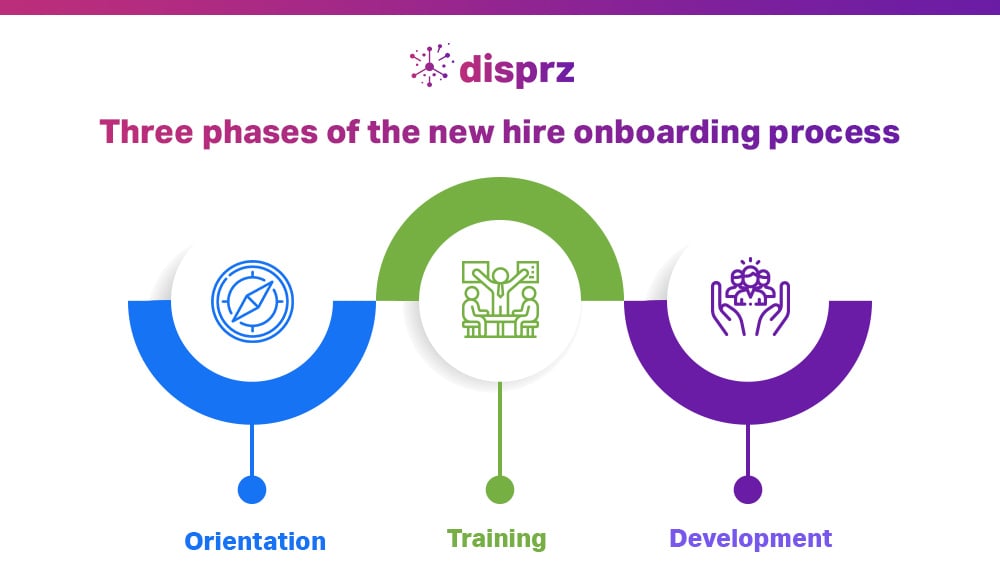 The new employee onboarding process might differ from company to company. However, there are three common phases of onboarding that are critical to onboard any new hire, regardless of whether they are working from the home, office, or in a hybrid environment.
1. Phase 1: Orientation
In this phase, the new hire is introduced to the company's culture, hierarchy, policies, vision, and core values. Information like code of business conduct, ethical business practices, safety measures, norms to follow while working in-office/remotely, compensation, etc., are shared with the employees. The purpose of the orientation is to provide a full array of the resources needed to get the new hires hit the ground running in a new work environment.
2. Phase 2: Training
As the new hire gets comfortable, the next step would be to provide job-specific training to give them a clear picture of their daily duties. A strategic plan is essential to help the new hire understand their roles, product, project, competitor, and processes. This is the phase where clear objectives and expectations need to be conveyed. The new hire must have clarity on how they can contribute to the company's goals and bottom line.
3. Phase 3: Development
Focusing on the ongoing development of the new hire and ensuring they are on the right path. Having visibility of the strengths and skill gaps for providing real-time feedback. Regular check-ins and conversations on employees' aspirations, goals, and progress are pivotal here.

Why is it important to have an effective onboarding process for in-office, virtual, and hybrid work cultures?
Onboarding is a great opportunity to win the trust and heart of the new hires. Whether its' an in-office, remote, or hybrid workplace, a well-planned onboarding process helps in strengthening the new hires' connection with the company.
A solid new employee onboarding process:
Nurtures the talent
Improves job satisfaction
Boost new hire performance
Prepare new employees for success
Fosters a productive work atmosphere
Cater to the emotional and psychological needs of the new hire
Facilitate social bonding
Accelerates pathway to growth
Helps the employee get comfortable in the new role
Provide clear knowledge of the product, policies, protocols, and responsibilities
Provides a clear picture of the goals and expectations.
Here are a few onboarding statistics that speak volumes about the importance of an effective onboarding process.
93% of employers believe a great onboarding experience is critical in influencing a new employee's decision whether to stay or leave the company.
New employees with good onboarding experience are 18X more committed to their employer
Moreover, a great onboarding experience even helps in talent attraction and improves the employer's brand as a happy employee might recommend the company to their networks or write a positive review on Glassdoor and other career portals.
3 Consequences of bad employee onboarding
So what is the impact of poor or no new employee onboarding?
1. Disconnected new hires fail to perform
The new hire feels adrift and disconnected when a company doesn't focus on onboarding. Moreover, when the new hires are working fully or partially remotely, they feel all the more anxious. They don't know what to do and where to go.
Poor onboarding can cause enthusiasm and confidence deflation resulting in unsatisfactory job performance. As per research, 50% of the new hires who did not meet their first performance goals report that they did not have a formal onboarding process
2. Misinformation jeopardizing lucrative opportunities
It is frustrating when the new hires share misleading information, especially with the client. The company's reputation is hampered when promises are not met due to miscommunication or misinformation. In fact, it leads to customer churn. Can the new hire be blamed alone here?
Without proper new employee onboarding and dissemination of the right information/data, there is a high chance that new hires might do their research and unknowingly share inaccurate or low-quality information. In this process, the new hire's confidence takes a hit, and they feel demotivated.
3. Dissatisfaction leading to high attrition
The most drastic drawback of a poor onboarding experience is dissatisfaction at work. Due to ineffective onboarding, new hires are not able to adjust and build connections in the company. Moreover, they take time to get productive without the right path defined to them.
The most talented employees feel frustrated when they are not unable to function to the best of their abilities due to a lack of training. Proficient employees try all the permutations and combinations to survive and thrive in a company. However, without the right insights, the efforts are futile, and the new hires eventually end up quitting the company.
5 onboarding mistakes that are costing your company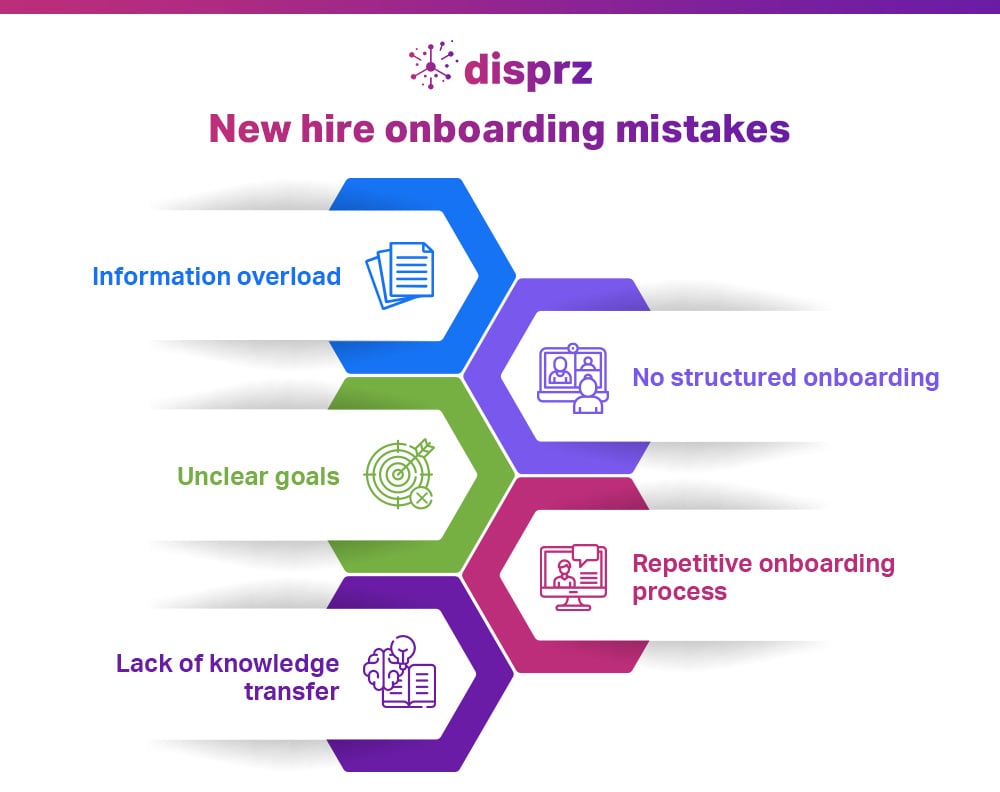 Poor onboarding can cost a company 100-300% of the employee's salary in total.
Here are employee onboarding mistakes that can cost a company.
1. Overflow of too much information at one time
Information overload to cut down onboarding from months to a few days can backfire. Employees(and anyone, frankly) cannot absorb too much information in a few days. The new employees are apprehensive; they need time to understand the company's culture, their role, and various processes. Hence avoid this mistake and don't hurry. Plan a proper onboarding journey where knowledge is disseminated at the right pace.
2. No clear, streamlined and consistent process that everybody can follow
Most organizations don't have a formal onboarding process. Employees working remotely or in a hybrid work setting don't receive consistent information during onboarding. So different messages around the product are conveyed to the clients or website visitors.
No matter where the new hires are working from, a clear, streamlined onboarding process can keep everyone on the same page. There needs to be synchronization between resources to ensure every employee in the company uses the same tone and messaging while connecting with potential buyers or customers.
3. Not setting goals and conveying expectations
Organizations mostly have piles of work stacked up for the new hire and expect them to perform without setting goals or conveying expectations during the onboarding. The employees cannot figure out what success looks like in the company and hence deliver performance that disappoints the management. It is important to set realistic expectations and goals to give the new hires a clear picture of what you expect from them and the goals they need to achieve in the first quarter.
4. Non-engaging and not scalable
Most onboarding sessions are repetitive and boring, which leads to disengaged new hires. Moreover, the onboarding processes are not scalable and are confined to obsolete information. As the company grows, the onboarding needs to scale, and information needs to be updated. It is crucial to fine-tune what your employees want to learn consistently. The remote workers need to be motivated with engaging experiences to ensure they complete the onboarding process.
5. Lack of knowledge transfer
Knowledge transfer is a critical part of the new employee onboarding process that is not given the importance it deserves. A proper handover can help the new hire take up new responsibilities without any hassle. Having exiting employees pass on all the information and insights amassed during their tenure can smoothen out the transition. The proper knowledge transfer during onboarding can help prevent knowledge loss when experienced employees leave the company.
Onboarding tips for in-office, virtual and hybrid workplace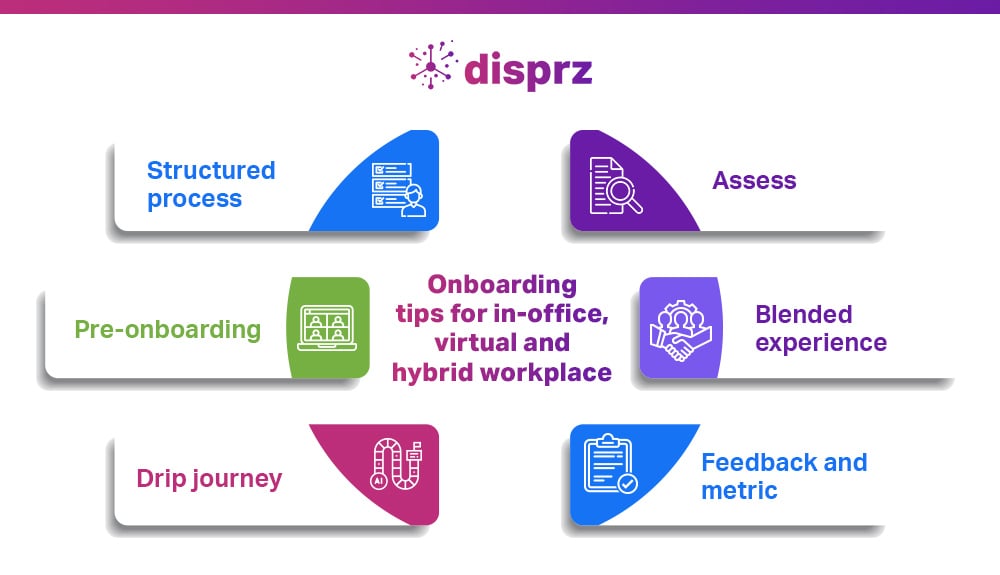 If a new hire takes a year to get productive, then it is a loss for both the employee and the company. Hence whether it is a remote, virtual, or hybrid workforce, they a roadmap that ensures they are headed in the right direction. A strong onboarding can help set the tone right from the first day.
Here are a few tips for onboarding a hybrid, in-office, and remote workforce:
1. Plan a structured new employee onboarding process
A well-structured onboarding process is paramount to bringing out the best in your new hires.
49% of new employees who don't undergo a structured employee onboarding process miss their first performance milestone
The more time you spend on structuring your employee onboarding, the faster the new hires can build up their capabilities and deliver optimum results. Make sure you create a standardized onboarding process that provides the same experience to your employees working from different locations or time zones.
Are you wondering where to start and how to build an onboarding plan for a new hire?
Well, here's how you can do it:
Have a clear strategy for in-office onboarding, remote onboarding, and hybrid onboarding
Set the employee onboarding objectives.
Implement an onboarding tool (Ideally an LMS to create a culture of continuous learning)
Define the role and outline the skills your learner should gain to do justice to the role
Define the KPI for the new hire
Decide the period for your onboarding(will it be 30 or 90 days long)
Set clear expectations and goals for the learners.
Make a checklist of information/resources you need to share with the learners.
List out the training the employees must attend (product training, tech training, etc.)
Have an onboarding training team
Plan your onboarding course
Plan the assessments
Create an onboarding journey and set a comfortable pace to learn.
2. Start engaging new hires before they join the company
The period between when a candidate accepts an offer and joins the company is very critical. The potential employee might contemplate if they've made the right decision; meanwhile, some other companies might entice them with a better offer.
80% of professionals are nervous before they start a new job,
Through pre-onboarding, you can engage the employee even before they join your company and put their mind at ease. Moreover, you can present yourself as a company that is interested in employee development and set a good first impression through pre-onboarding.
Here is how you can engage the employees through pre-onboarding
Start by taking feedback on the hiring process
Send a quiz to find out what they already know about your company
Share daily bytes about your company, the culture, product, etc.
Get a head start on admin tasks
Share the onboarding schedule to help the new hire visualize how will the first few months look like
3. Create a 30-60-90 day onboarding journey
Once the new employee joins the company, either virtually or in-office, the real hustle begins. So, create a 30-60-90 day onboarding journey to make life easier for the new employee in the company. By using advanced LMS, you can create a drip journey and simplify the 30-60-90 day new employee onboarding journey.
For instance
Day 1 – Share a welcome video and the policies/protocols to abide by while working in-office or virtually.
Day 2 – Live webinar to meet the team member and different stakeholders
Day 3 – Resources on the product and features
Day 4 – Videos on the role and responsibilities
Day 5 – Cases studies on how different customers used the product
Day 6 – Demo recording of the product
Day 7 – Assessment
This is just an example. In a similar way, a 30-60-90 day onboarding journey can be created. The first 30 days can be focused on intensive training on the job role and goals. The next 30 days are the opportunity to put into action what the employee learns and have a detailed analysis of the on-the-job performance. Based on the analysis, further training can be planned. By the third month, the employee should start working independently on the different projects. So here, the focus should be on identifying the areas of strength and building on them.
4. Have subjective evaluations
Are the onboarding sessions benefitting the new hires?
Are the new hires actively involved in the onboarding process?
Are the new hires understand everything that you've covered onboarding program?
You can find answers to these and many other new hire onboarding-related questions through assessments. You can test their knowledge about your company, product, and processes. Assessments help keep the employees on their toes and take the onboarding more seriously. While working remotely, it might become difficult to gauge if the new hire is the one taking the assessment. However, using a cutting technology like Disprz LMS, you can easily conduct a proctored assessment to ensure the new hire is taking the assessment and answering the question without any help.
5. Create a blended onboarding experience
Create the right mix of blended employee onboarding experiences to drive engagement. An onboarding process doesn't necessarily need to be push-based. With an LMS, you can blend push-based/classroom training with interest-based learning. You can curate and streamline content relevant to the new hire's role. The new hire can easily access to expand their knowledge.
6. Focus on feedback and metrics to improve onboarding
Onboarding isn't just a process you create and forget; it is intended to prepare a new hire to produce measurable business impact. Hence it is important to measure onboarding success and focus on vital metrics like:
New hire satisfaction
Training completion rate
Time to productivity
You can even measure new hire satisfaction by taking feedback from them. Try to find out what they things about the onboarding process through a survey.
Here are a few onboarding survey questions that you can ask the employees
On a scale of 1 to 5, how would you rate your onboarding experience?
Did the onboarding help in understanding what is expected of you at this job?
Do you feel the onboarding disseminated the knowledge needed to succeed?
Do you feel you have all the resources to perform your job efficiently?
Is there something we could do more to help you do your job better?
Was the onboarding process time frame adequate?
Considering all the stakeholders you will be working with, how many were you acquainted with?
What would you like us to change or improve in the onboarding process?
What is that you like the most about the onboarding process?
Is there something that you disliked about the onboarding journey?
You can improve your new employee onboarding process based on employee feedback to onboard the new hire more effectively in the future.
Onboarding Best practices Different Work Cultures and Environments
Below are onboarding best practices for different work cultures and environments:
In-office onboarding best practices
The outdated employee onboarding process does not fit in the modern workplace. Here are best onboarding practices for new employees who are physically present in the office.
1. Assign a partner for the first two weeks
Having an onboarding buddy program can help the new hire learn about the day-to-day processes while establishing a rapport with someone in the same role. The new hire feels more comfortable as the lines of communication are always. It is easier to ask questions and clear doubts. The buddy candidate needs to be an experienced candidate with in-depth knowledge of organizational practices and systems. The onboarding buddy program can cultivate a positive and supportive environment where the employee feels welcomed.
2. Prepare managers for active involvement through regular check-in
Regular check-ins are an important tool for the managers to connect with the new hires and understand their potential. The manager can have clear visibility of the progress. An LMS offers learning analytics that can be used as the base for constructive feedback. Through real-time feedback, the managers can guide the new hires to ensure they are aligned with the team's overall goals.
3. Balance learning and doing
No matter how talented your new hires are, they will need overall development to excel at their role. They need opportunities to practice what they've learned. So once while creating onboarding journeys, ensure you balance information dissemination with a practical season. It can be a practical test for tech employees, while for a sales executive or customer support executive, it can be a mock call or a role-play.
Virtual onboarding best practices
Virtual employee onboarding employees is not a walk in the park. It is more challenging than onboarding in person. Here are best practices to improve virtual onboarding:
1. Test the new hires prior knowledge to identify strengths and weaknesses
It is important to find out what your new hires already know to determine where they need attention to handle various job-related tasks smoothly. So through digital tests, you can identify the knowledge gaps in your remote workforce. You can skip the part they already know and tailor the onboarding to the employees' specific needs.
2. Encourage tenure employees to connect with new hire
Most of the time, the remote employee feels isolated and lonely in a new work atmosphere. You need to break down silos by asking a tenured employee to connect with the new hire. The new hire can freely ask questions and address the hurdles they are facing in their new role. The tenure employees can introduce the new hire to their networks and even guide them with information like whom to connect with for different requirements.
3. Mobile learning to onboard at ease
While working from home, employees are often enticed to scroll through their mobiles. You can seize this opportunity and provide a few learning sessions through mobile for successfully onboarding your remote workforce. Mobile learning is more effective when you present the learning material in small chunks. Microlearning through flashcards is easy to consume and digest so the remote workforce is more liked to engage with the short content.
Hybrid onboarding best practices
With employees toggling between in-office and remote workplaces, it is crucial to have a solid new employee onboarding in place to drive productivity. Here are a few hybrid workforce onboarding best practices:
1. Strike the right balance between in-person and virtual onboarding
You can effortlessly balance in-person and virtual onboarding with an LMS. Through structured pathways on the LMS, you can help accommodate both in-person and virtual learning. It brings together metrics in one place to know the onboarding progress. You can introduce the new hire to various departments, have team-building activities, and boost collaborative productivity.
2. Empower the hybrid workforce with the right tool
The success of hybrid onboarding lies in the use of the right technology. So give them the right tool to learn at their own pace. The right technology can even be very beneficial for the trainers as they can set workflows and automate the onboarding process. Moreover, they can get notified when the employee completes a course so that they can take the next step in real-time.
3. Foster team support with social learning
Give the new employees who are working in a hybrid model a platform to connect with their peers and collaborate. Employees are working from different locations and time zones, so they need support from each other. You can strengthen team connection through social learning where employees can share important resources, address queries and learn together.
Conclusion
A well-organized onboarding process can often lead to long tenure for an employee in the company. Hence plan the entire onboarding process strategically. Foster a great onboarding experience that gives employees reasons to stay loyal to a company and share their experience with others.
See a preview to check out how you can make your onboarding journey engaging and structured.

More Resources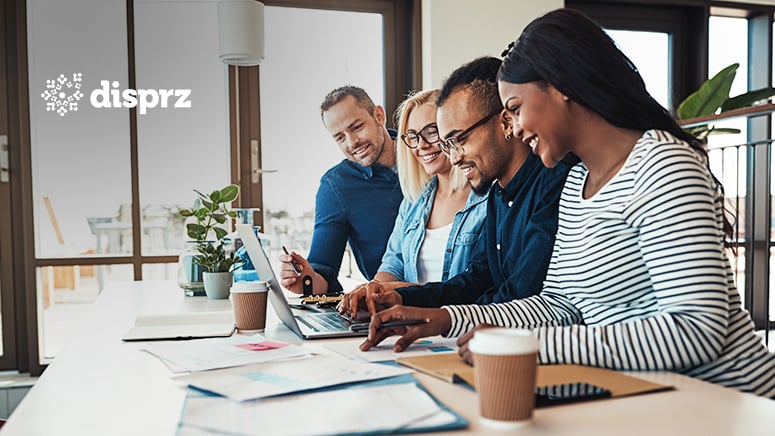 View More Resources
Sign up to get free resources and stay up to date with Disprz!
Discover how Disprz can align learning and upskilling with your desired business outcomes.