Employee Upskilling - A Detailed Blueprint For Building A Skills-Driven Learning Culture
The global Learning Management System (LMS) market exhibited remarkable growth, surging from a valuation of $8.76 billion in 2019 to an impressive $38.10 billion projected for 2027, boasting a robust Compound Annual Growth Rate (CAGR) of 19.7% over the forecast period.
As the landscape of education undergoes a digital transformation with online learning becoming an essential facet across various educational tiers, it is only natural that businesses have embraced this trend by incorporating it into their training and professional development initiatives. This evolution is evident as many companies have proactively adopted cloud-based learning management software, allowing them to create, administer, and deliver tailored training programs for new recruits while closely monitoring the progress and performance of their existing workforce. Amidst this plethora of available options, you may find yourself contemplating how to make an informed choice.
And in this vast ocean of possibilities, Disprz shines as an industry leader in the field of Learning Management Systems. With a commitment to revolutionizing digital learning, Disprz provides businesses with a comprehensive solution. By streamlining and scaling training processes, Disprz ensures that businesses can maintain their competitive edge and adapt to the ever-evolving industry requirements and market trends.
Before we get started, let's break down what a Learning Management System (LMS) really is. We're not aiming for a dry definition; instead, we want to illustrate how an LMS can genuinely benefit your team and organization. Our objective here is to offer a clear understanding of LMS and help you create an LMS strategy that boosts employee engagement while promoting ongoing training and development.
What is an LMS?
An LMS is a platform used by an organization to plan, deliver, track, and evaluate learning. They are mostly used to administer and monitor learning activities, track progress, assess performance, and ensure compliance with training goals and regulations. They are commonly employed in corporate training, academic institutions to facilitate efficient learning and development.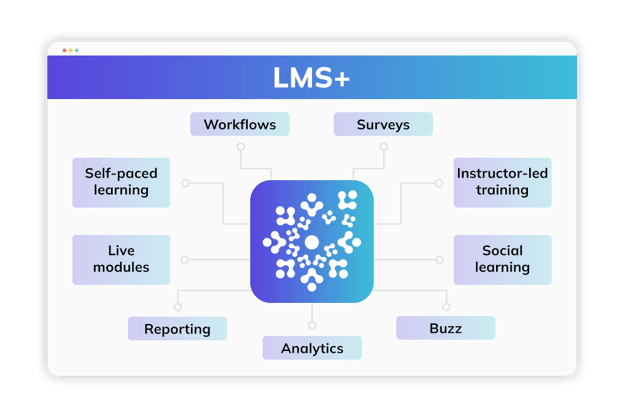 Who can benefit from using an LMS?
Learning management systems have become an integral part of major sectors in this dynamic world. Since they can be leveraged to impart various types of training, self-paced learning, enhance learning experience, almost every industry can benefits from using it.
However, for better understanding the use cases, we have prepared a list of industries that can amplify their learning and training needs using an LMS.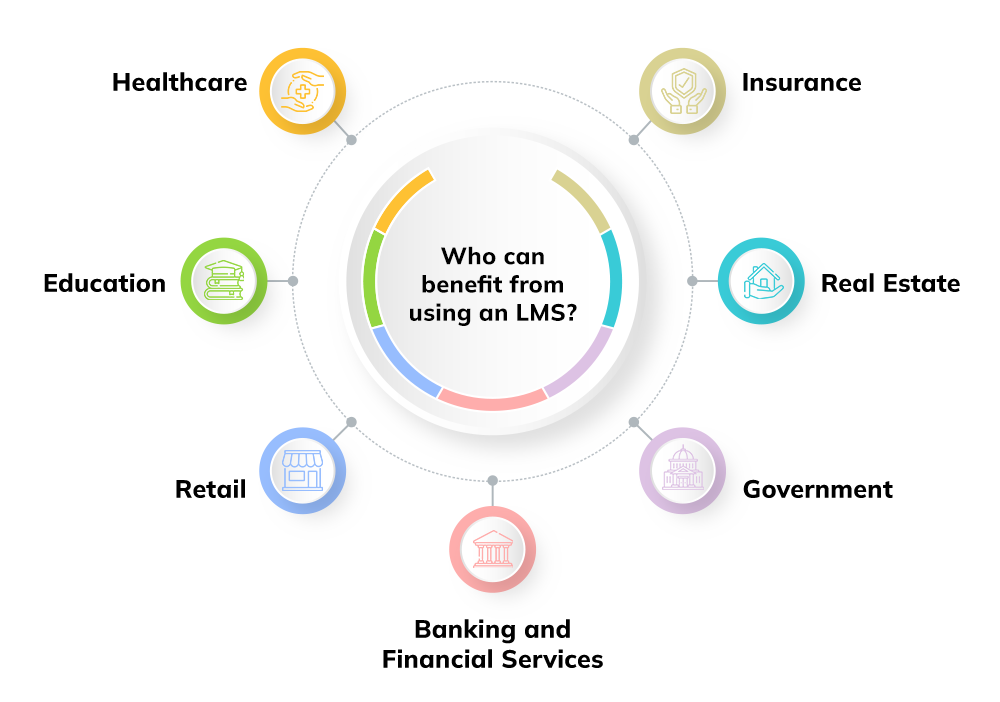 Healthcare - to train their staff on the most recent medical practices, laws, and technologies.
Education - to manage, deliver, and track educational content and activities. It can be used to create virtual classrooms, allowing educators to provide attendees with live, interactive training.
Retail - to train and

develop employees

in the retail industry. Retail employees can gain access to classes, certifications, and other materials through an LMS, which can help them better grasp the company's products and services.
Banking and Financial Services - to provide comprehensive training and certification programs to their workers. An LMS can help automate

employee onboarding

and ensure staff are familiar with corporate policies and procedures.
Government - to deliver training and education to their employees and citizens.
Real Estate - to streamline real estate agent training, providing a centralized platform for onboarding and

continuous learning

.
Insurance - to enhance compliance training for employees, ensuring they understand and adhere to industry regulations.
Types of LMS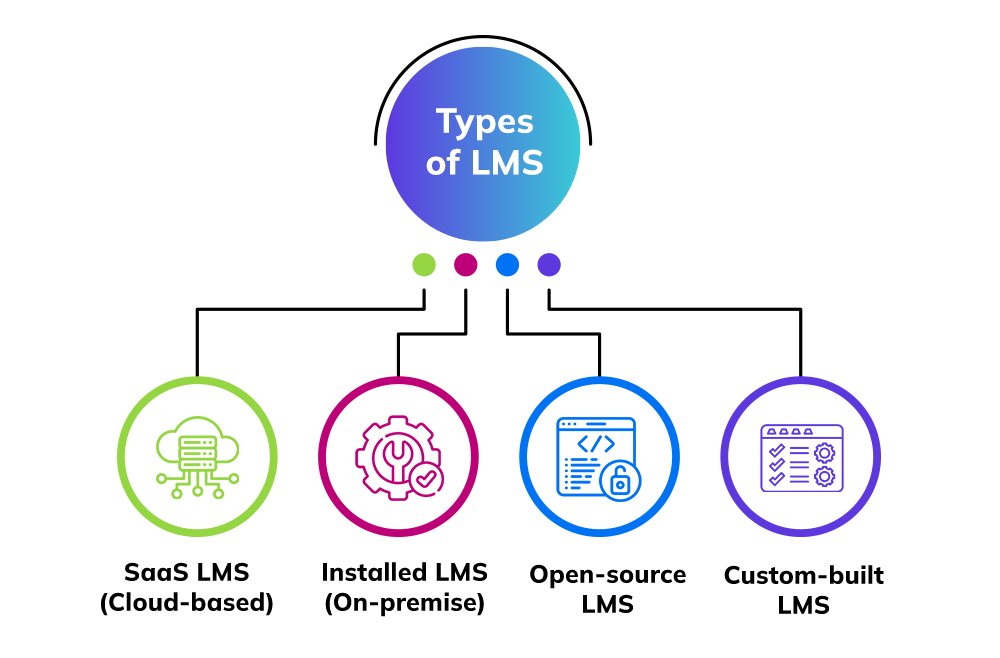 The 4 Types of Learning Management Systems (LMS) to Consider are:
SaaS LMS (Cloud-based): For a swift and seamless LMS setup, a SaaS (Cloud-based) LMS is the go-to option. Yet, it's essential to exercise caution when choosing one since many providers might offer options with limited room for customizations. However, you should consider the one like Disprz LMS that provides smarter and tailored solutions based on your needs.
Installed LMS (On-premise) - On-premise LMS provides organizations with more control over data and system management. It allows employees to access the LMS from the company's network, reducing the need for an internet connection. However, it comes with high upfront costs for purchasing hardware, and maintaining and upgrading the system requires dedicated IT resources.
Open-source LMS: An open-source LMS is a community-driven platform where users can collaborate to improve the system. It's highly customizable and offers flexibility to adapt to unique requirements. However, it often requires technical expertise to set up and maintain, and may lack comprehensive vendor support, leaving you more self-reliant for troubleshooting.
Custom-built LMS: In the case of a custom-built LMS, a company relies on its in-house development team or external consultants to create a tailored learning management system. Typically, custom-built LMS solutions are on-premise, thus inheriting both the advantages and challenges associated with on-premise systems. The maintenance of a custom-built LMS typically involves only a handful of employees, which can pose challenges in case of employee turnover or resignation. Also, it's a costly and time-consuming solution to develop, and ongoing maintenance can be complex. Compatibility issues may arise, especially as technology evolves.
Key Features of an LMS
Responsive Design: This is an integral features and it ensures that the software is compatible and works well with various screen sizes and devices. A responsive LMS provides an user-friendly interface to the users and help them access and interact with platform on computers, tablets, and smartphones without usability issues.
Mobile-friendly Blended Learning Formats: This LMS features ensures that course content, such as videos and interactive modules, can be accessed and consumed effectively on mobile devices, supporting flexible and on-the-go learning.
Reports and Analytics: An integrated Advanced reporting and analytics tools within an LMS provide detailed insights into learner progress, engagement, and performance, helping administrators monitor and assess individual and group progress and make data-driven decisions to improve training outcomes.
Catalog and Course Management: This feature allows administrators to organize and manage courses, create course catalogs, assign instructors, set prerequisites, and easily update content.
Assessment and Quizzes: LMS assessment tools allow the creation of various types of quizzes and assessments, such as multiple-choice, essays, and simulations, to evaluate and reinforce learning.
Integration: The LMS should support seamless integration with other tools and platforms, including content repositories, video conferencing tools, and third-party applications.
Support Services: This encompasses customer support, technical assistance, and training resources provided by the LMS vendor to ensure smooth implementation and ongoing use.
Certification and Compliance Support: LMS should offer features to track and manage certifications, compliance training, and regulatory requirements, ensuring organizations meet industry standards and certifications.
Social Learning Capabilities: Social learning tools, like discussion forums, chat, and collaborative projects, promote interaction among learners, facilitating knowledge sharing and peer-to-peer support.
Gamification Elements: Gamification includes features like badges, leaderboards, and rewards, enhancing engagement and motivation by turning learning into a more interactive and competitive experience.
What are the Use Cases of an LMS?
Onboarding new employees may be an exhausting and time-consuming process. If newly hired employees lack adequate training, the company will suffer. However, if properly structured and followed, an onboarding training program may prepare new hires for a smooth and solid start to their new job.
An LMS makes it simple to create several courses, upload learning materials in various multimedia formats, administer assessments, measure learners' progress, and evaluate overall employee performance.
Development and retention
An LMS can be used to enhance employee career development by providing accessible and engaging learning materials, connected to specific career paths, allowing employees to learn new skills and qualifications that will help them advance in their careers within the company.
Sales training typically consists of building interpersonal skills, enhancing communication abilities, and honing one's sales skills in order to assist build a better and longer-term relationship with your clients and increase overall sales.
Incorporating an LMS enables sales teams to access content on-demand, monitor their progress, and participate in interactive simulations and role-playing exercises to enhance their selling skills.
The LMS also facilitates tracking and assessment, ensuring sales professionals are well-prepared and consistently updated with the latest information, ultimately leading to improved sales performance and customer satisfaction.
You can offer blended learning with the help of an LMS for better engagement and enhanced completion rate. It offers a flexible and personalized approach to training by allowing learners to access digital content, quizzes, and discussions through the LMS.
In-person sessions can focus on interactive activities, discussions, and practical applications. This combination leverages the advantages of both in-person and online learning, optimizing engagement and knowledge retention for a more effective and well-rounded educational experience.
Training for remote and distributed workforce
An LMS that is optimized for mobile devices offers 24/7 accessibility to training materials from any location, enabling remote employees to learn at their own pace.
LMS ensures consistent training content delivery, provides collaboration tools for remote teams, and allows easy tracking of progress.
Compliance & Certification training
Organizations frequently require mandated compliance training for their employees in areas such as cybersecurity training to protect sensitive data, sexual harassment prevention training to maintain a safe workplace, and healthcare compliance training to ensure adherence to regulations.
An LMS can aid in the management and tracking of various training courses, ensuring that all employees meet regulatory standards.
Benefits of Using an LMS
The most effective Learning Management System allows you to track the progress of learners and verify that they are achieving performance milestones. For example, if a learner is unable to score the threshold in an assessment, you can provide them with additional resources to help them improve their performance or learning practices.
Most Learning Management Systems include reporting and analytics capabilities that allow you to identify parts of your eLearning course that need improvement as well as places where it excels.
If you observe that many of your online learners are struggling with a particular online lesson, for example, you can evaluate the eLearning content and make changes as needed.
Efficient training management
When it comes to efficiency, online learning offered through LMS software outperforms traditional approaches.
Traditional onboarding entails a significant amount of in-person instruction in a classroom setting. To make this possible, everyone must devote time away from their primary tasks, which has an impact on production.
However, when onboarding, customer, or partner training is delivered through easily available online modules, learners can absorb the material more quickly. You also do not waste time rescheduling a training session for a specified location and time.
An LMS facilitates centralized training to deliver, track, and manage training and educational programs within a single platform. Centralized learning ensures that training is consistent and standardized across a company. It ensures that all learners, regardless of location or department, have access to the same material, exams, and learning resources.
Demonstrate training impact with analytics
Obtaining valuable training data is one of the main advantages of a learning management system. An LMS provides you with reports on areas like module success rates, history of training, course progress, and more will be available to you. You can use these numbers to demonstrate the positive effect training is having on the company's ROI.
Integrated with existing training resources
If you have training materials already created, you can save time by just uploading them into the LMS. Courses can be created quickly and at no extra cost by using files like PowerPoint or PDF and uploading or embedding video content.
Multiple training methods
An LMS can enable a broader range of training methods by offering a comprehensive platform for incorporating various learning formats. It supports traditional methods like instructor-led training, as well as digital approaches such as eLearning modules, videos, webinars, and interactive simulations. You can choose any depending on your business requirements.
An LMS allows organizations to create and manage certification programs within the system. You can track employees' progress, and generate certificates upon successful completion of required training modules. This reduces administrative burden, ensures compliance with certification requirements, and provides a convenient, digital record of certifications for employees and stakeholders.
What to Consider When Selecting an LMS?
Choosing the right Learning Management System (LMS) is crucial for catering to organization's unique needs. It's about making sure that the LMS aligns with your training goals, engages your employees effectively, and simplifies the management of training materials. Think of it as an investment that not only optimizes learning but also supports your organization's growth in the long run.
Here is a list of things to consider when choosing an LMS.
Learning Objectives and Needs
Start by defining your organization's specific learning goals and outcomes. Consider whether your training primarily aims at skill development, compliance, or knowledge enhancement. Identify the target audience and their preferences, including remote or on-site access. Assess whether you need features like progress tracking, assessments, or certification management.
User experience & interface
Who are your most important LMS users? The learners. It is important that your LMS does not obstruct the learning experience; rather, it should improve it. Your LMS's learning curve should be so minimal that anyone can utilize it without assistance.
The LMS interface should be responsive, which means it should instantly adjust to the device the learner is using to access their information.
There should be no impediments or delays that could generate annoyance or confusion for the learner. As a result, while comparing LMS, user experience (UX) must be an important consideration.
Integration is a critical aspect in offering an optimal user experience for both learners and employees. Single Sign-On (SSO) allows learners to access several apps (website, LMS, and online community, for example) using the same credentials, resulting in a better user experience.
You want an LMS that can seamlessly interact with other platforms in your IT ecosystem, allowing data to move back and forth swiftly.
Today's learners must be able to carry their learning with them wherever they go. As a result, a multi-device LMS, especially a mobile-friendly one, can ensure that learners may access their courses and resume where they left off whenever it is convenient for them.
With the vast majority of the world's population increasingly accessing the Internet via mobile devices, the LMS you choose must be compatible with a broad range of operating systems, browsers, and screen sizes.
When developing your requirements, don't forget to include reports. Many LMS platforms contain a number of basic reports, and some even let you generate your own. You may be able to build ad hoc reports using any data in the system if your LMS contains a robust reporting engine.
Before making a decision, it is best to discuss report specifics with LMS suppliers. For example, tell them what data is included in each report you require and where (which system) that data is stored.
Think about the possibility of needing real-time assistance from LMS staff before making a final decision. This most frequently occurs during the phases of implementation and integration, but it can occur at any moment. Tutorials on how to utilize the learning management system will be essential for new users. Discuss about after-hours help for users in different time zones.
Read about the 5 LMS misconceptions you should not fall for.
Conclusion
In this blog, we looked at how a Learning Management System (LMS) can help improve organizational learning and development in this blog post. We've discussed significant elements to consider when selecting an LMS and the significance of implementing one in your company or organization.
As you now have a more thorough understanding of LMS, you must select the best LMS provider for your company, one that boosts compliance training and documentation, streamlines training management, and so on.
If you need more information on an advanced LMS, explore Disprz LMS to see how we can assist you with an advanced all-in-one platform that includes personalized learning paths, continuous learning support, customizable dashboards, skill gap analysis, and insights into the effectiveness of your training programs.
Take the next step toward improving your training and development with Disprz's LMS and open up a world of possibilities for your business or organization's learning journey.
About the author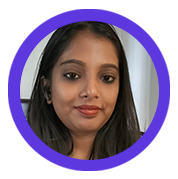 Debashree Patnaik
Debashree, is the dynamic Content Specialist at Disprz, with over 6 years of content management experience. She's the creative force behind the engaging content you find on our website, from blogs to whitepapers and social media. With a diverse background spanning startups, edtech, hospitality, healthtech, and real estate, she now channels her expertise into the world of enterprise skilling.
More Resources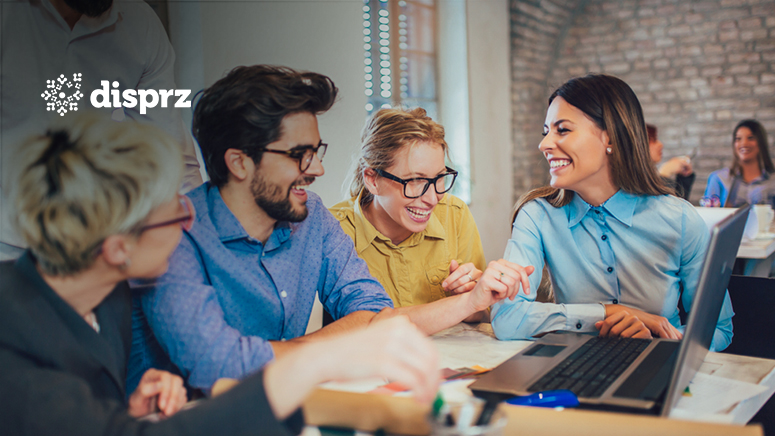 View More Resources
Sign up to get free resources and stay up to date with Disprz!
Discover how Disprz can align learning and upskilling with your desired business outcomes.