The Guide to Corporate Learning – Drive Employee Learning and Training
Companies around the world understand the value of investing in corporate learning solutions to strengthen employee capabilities, bridge skill gaps, improve employee retention and engagement, build a pipeline of leadership talent and ensure readiness for success. Corporate learning has the potential to reduce costs associated with turnover, reduce time to productivity, and facilitate career mobility to fill important roles from within.
As an L&D leader, you are likely feeling the pressure to drive impactful corporate learning initiatives that reduce time to productivity, increase employee engagement and produce measurable business results. That's because A research cites that 94% of employees claim they would stay with their employer if it invested in their professional development.
If you have not yet succeeded in meeting learning expectations it is crucial to find out what's holding you back from providing the best corporate learning ROI for your organization.
Corporate learning's role in workforce transformation
A skilled workforce is the biggest competitive advantage a company can have. Businesses and employees are directly linked and create a ripple effect; when employees grow, they also create lucrative opportunities for the company and fuel its growth. The right investment in employees' upskilling and development fills the performance gap and increases the organization's agility, positively impacting the overall business goals.
---
Research by Forbes stated that 84% of employees in the best-performing companies received regular training, while only 16% of the employees in the worst-performing companies were properly and regularly trained. These stats speak volumes about establishing and nurturing a continuous learning culture.
---
A well-defined corporate learning pathway accelerates onboarding & ensures job readiness from the time a new hire joins the company. Learning facilitates workforce transformation for existing employees by helping them address their performance gaps, hone new skills and unlock career advancement opportunities through internal mobility. It motivates existing employees to move beyond their current responsibilities and add more skills to their repertoire to continuously innovate and deliver exceptional outcomes to progress in their careers.
Companies that put their peoples' careers first are more likely to earn the employees' trust and boost retention, which helps improve a brand's reputation and win the war for talent.

---
A study on training and retention disclosed that 86% of millennials would not leave their current position if their employer offered training and development opportunities.
---
6 Challenges companies face when corporate learning strategies fail
An effective corporate learning and development program helps produce highly competent employees. However, to achieve this, as an L&D professional, you need to stay ahead of the game by strategizing and operationalizing the entire learning and development process. If you ignore corporate learning strategies, your business may have to face the consequences like:
1. Inefficient onboarding
A recent Forbes study found that 25% of new hires leave their company within the first 12 months. The cost of losing a new employee within a year costs 30%-40% of his salary. This is because your company will have to spend double the money on hiring and training a new resource. This can surely burn a hole in the corporate budget.
While building your corporate learning strategy, you need to pay extra attention to the first step, onboarding. Your onboarding process will set the right tone from the beginning to reduce the cost of turnover.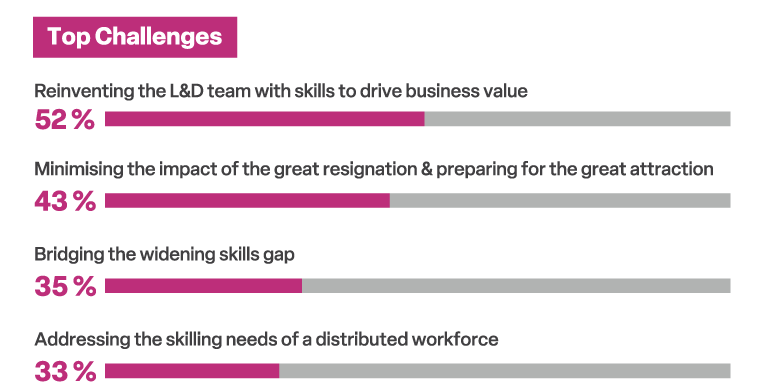 2. Broadening of skill gaps in employees
An ineffective corporate learning strategy leads to skill deficiencies among existing staff. This could be detrimental for your company as Korn Ferry's "Future of Work" states that the skills gap could create an $8.5 trillion deficit in revenue over the next decade.
For instance, most of the deals of a sales representative falls through the crack in the stage of negotiation. However, if he receives generic training on selling, instead of sharpening his negotiation skills with specific learning modules on negotiation techniques to successfully convert the potential prospect into a buyer. This affects his sales targets and, in turn, has a negative impact on revenue.
3. Increased employee turnover
Employee turnover is a pressing issue. This is especially seen in companies without effective corporate learning solutions. In fact, Forbes found that 64% of employees plan to quit because there aren't enough opportunities for skills development.
By not giving employees the opportunity to upskill you are increasing the risk of losing your best talent. That's why it is crucial to offer ample corporate learning opportunities for employees to develop and grow.
4. Lack of internal career mobility
Some companies refrain from supporting internal mobility as they are engrossed in focusing on corporate growth. This is a mistake, as LinkedIn's research shows that employees stay 41% longer at companies that have a lot of internal hiring.
When you pay little or no attention to employees' professional development or career advancement you are missing critically important opportunities to retain existing employees and support internal mobility. Providing corporate learning opportunities that drive growth through career mobility not only helps in saving costs but also helps in talent development for future roles that come from innovation and strategic business changes.
5. Talent shortages in high-demand roles
Digital, functional and technical skills have a shelf-life of 2 to 3 years. The rising requirement and low supply of skilled professionals have led to a massive shortage in high-demand roles. Companies are focusing on hiring high-quality talent rather than building them from within the company. Hence through constant upskilling, it is pivotal to expand the skills of employees to grow your talent pipeline.
6. Reduction in overall corporate performance
Poor organizational learning not only affects employees' performance but impacts overall performance based business outcomes. The quality of service and products deteriorate without skilled professionals, hampering customer satisfaction and business growth. Moreover, a company's costs increase when its workforce does not use its competencies to their maximum potential.
5 Benefits of Implementing an Effective Corporate Learning Strategy
Corporate learning and development can increase employee competency level, transform today's workforce into tomorrow's leaders and help promote employee-driven succession planning and internal mobility. There are several advantages of developing effective learning strategies; we've listed a few of them below: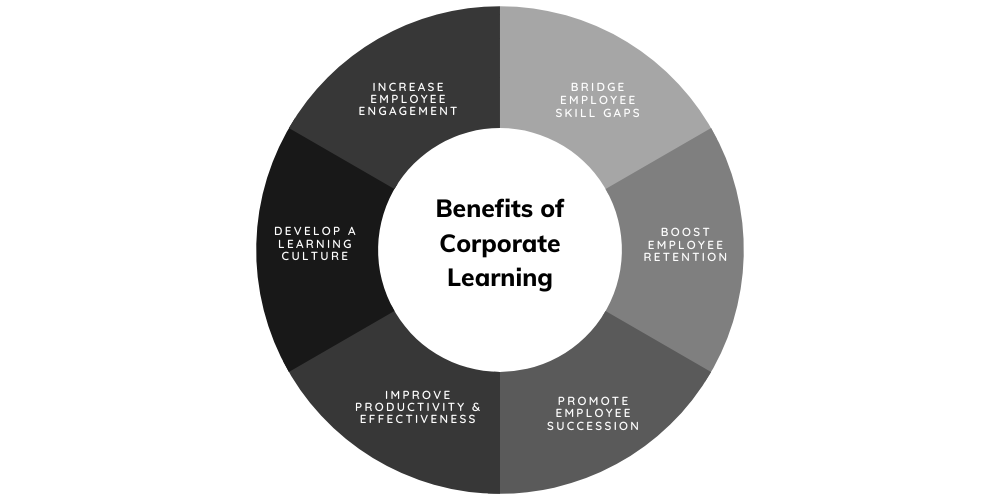 1. Increase employee engagement with personalized learning
Building a strong corporate learning strategy must include offering personalized, interactive L&D programs by blending multiple learning formats. This creates optimal learning conditions that drive engagement and motivates employees to take active steps to learn. Focusing on performance details and connecting with unique talent through meaningful L&D experiences help create a network of engaged employees who exhibit positive emotions towards their work.
For instance, three customer success analysts need improvement in customer experience management skills. Hence, an L&D professional organizes a live session on managing customer experience and conducts quizzes to evaluate the information each customer success analyst garnered through the session. Based on the quiz score, they assign learning modules to each employee along with the assessment. They then highlight the assessment score on the leaderboard. This makes skill nurturing engaging and expedites employee development.
When companies take charge to attract and engage talent with opportunities for employee's growth and career mobility, within the workplace, they eliminate the risk of attrition and experience positive energy exchange.
2. Bridge employee skill gaps
The employee skill gap is one of the most critical challenges faced by organizations worldwide. Continuous upskilling that's aligned with business goals and implemented through the right corporate learning strategy helps address this pressing L&D issue.
Skill-based training enables lateral thinking and empowers employees to be more versatile to take up more responsibilities and adapt to constant changes. It helps employees bridge the skills gap and acquire new skills for consistently meeting their goals and maintaining the formal performance benchmark of the organization.
3. Boost employee retention
Some companies believe in the myth that giving employees the opportunity to develop new skills will attract them to greener pastures. Well, it is the other way around; employees are more loyal to a company that invests in their career development. In fact, 94% of employees agree to stay longer if the company invests in corporate learning.
Employees want to build their competencies and be their best version while working. The companies that support this vision by integrating learning in the flow of work succeed in getting the best retention rate.
4. Promote employee-driven succession
In an ever-changing work environment, staying prepared for the unexpected is always crucial. In case of any unforeseen situation, if a leader leaves the company, it is crucial to have successors ready. Successful corporate learning solutions help in keeping the succession pipeline healthy and ensuring strong leadership development. That's why it is pivotal to design an L&D framework for different levels of the corporate hierarchy to ensure everyone from managers to leaders are prepared for the next opportunity.
This can be achieved through leadership training, wherein you can empower team leaders to get better at their job to manage employees with unique capabilities and progress successfully to enable their own career mobility. Managers are the best resource for first-hand information on the strengths and weaknesses of their employees, and to enable L&D leaders to perform skill based succession planning . Hence they need to be trained to ensure they achieve their individual goal and navigate the team to achieve the overall team targets.
5. Improve workforce productivity and employee effectiveness
Companies that create an upskilling culture tied back to business goals often foster higher employee productivity. From new hires to existing employees, everyone feels intrinsically motivated when they are upskilled to translate capabilities into stellar performance.
Effective corporate learning strategies speed up the new employee's integration into a company's culture and enhance on-the-job productivity to strengthen the pipeline of talent. Workplace learning strategy, including a well-planned onboarding journey, gives the new employee a bird's eye view of how the business functions, in order to smoothly settle into their role and become active contributors to the company's success.
Successful corporate training not only helps fast-track new hires' productivity but also plays a significant role in getting the best performance based business outcomes from their current employees. It can address employees' areas of improvement with-real-time data tracking on customized dashboards and accelerate the competency level by upgrading the quality of existing skills and capabilities.
6. Develop a continuous learning culture
Continuous corporate learning can help keep employees stay on top of every update to ensure everybody is on the same page. As a brand, it is important to maintain consistency. Hence every employee should work as a unified body and convey the same message while dealing with external resources.
Companies supporting a continuous learning culture often leverage a single access platform to curate and manage skilling content to maintain consistency while sharing knowledge and skills. This helps in ensuring that all the clients receive the same satisfactory experience while connecting with any company employee.
4 steps to build a corporate learning strategy
The path you tread while developing your corporate learning strategy determines the success or failure of your skilling initiatives. Below are four simple yet effective steps that can help you create an impactful corporate learning framework.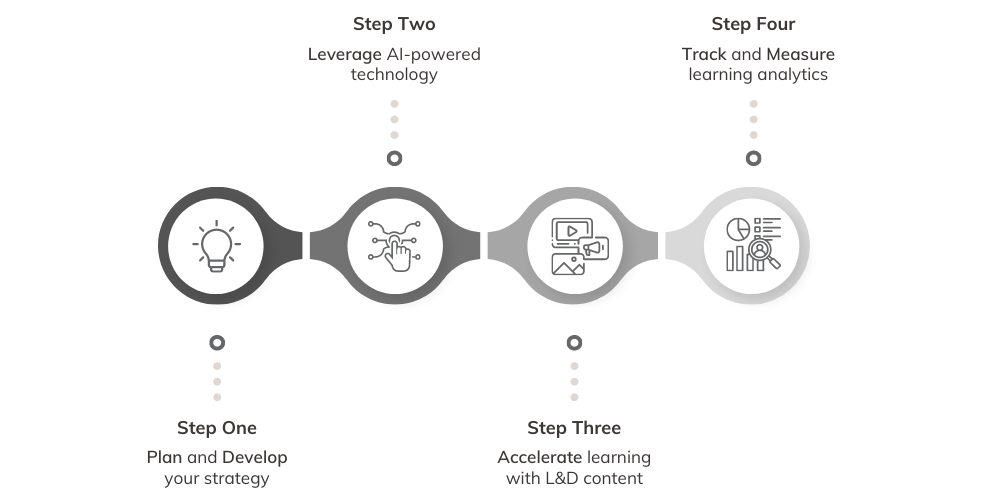 1. Plan and develop a robust corporate learning strategy
You might have heard the saying, "Failing to plan is planning to fail." This is certainly true when it comes to formulating a strong corporate learning strategy for your organization.
Thought-through planning helps you avoid any detours while developing training programs and gives you the foresight to keep employee training on the right track. A well-planned corporate learning journey has an incredible impact on learners, leading to successful knowledge acquisition that, in turn, enhances employees' contribution to the business.
Here are a few points to consider for developing successful corporate learning strategies.
Discuss with top management and outline the critical business goals.
Make sure the learning strategies are aligned with corporate goals and employee aspirations.
Create two employee development strategies for new hires and existing employees.
Convene managers to set up expectations and gain their commitment to support learning in the flow of work.
Connect with functional leaders at different levels to understand the existing employees' performance gaps.
Develop a skill inventory by mapping essential skills for different departments or roles.
Interact with various team members to understand their career aspirations and scope for internal mobility to help them achieve their personal growth.
Create an onboarding blueprint for new employees. Refer to the onboarding guide to set up a process to train new hires.
Develop a 4-S skilling cycle. It is a skill-driven approach consisting of skill identification, skill assessment, skill building and skill impact.
Conduct a skill gap assessment (Refer to skill inventory and evaluate the proficiency level of each skill for every role).
2. Leverage AI-powered technology for skill-driven learning
Having the right technology to assist in planning and executing your corporate learning strategies is a critically important piece of any successful learning framework. It can help manage your human capital's entire lifecycle, from onboarding to preparing the employee for the next role through continuous skill development.
L&D platforms such as Disprz LXP(Learning Experience Platform) can make corporate training exciting and engaging for your employees with its advanced personalization and outcome-based Workforce analytics features. Disprz's AI capabilities can take the learning experience to a new level.
An advanced Learning Experience Platform like Disprz LXP enables you to:
Create a skills repository by identifying, benchmarking and assessing technical skills. It helps you determine if your team has the right technical skills for every role.
Assess the proficiency level in each skill to determine job readiness through the manager and self-assessment.
Discover skill gaps at a glance for your entire organization.
Create a role-based personalized skilling journey to engage employees and improve knowledge retention.
Streamline the learning content for all your teams in one consolidated repository.
In fact, AI-driven technology will provide content recommendations based on the required skills.
Create blended learning pathways to drive engagement by merging conventional instructor-led learning with a modern asynchronous learning model.
Deliver mobile learning in the flow of work.
Evaluate procured knowledge through various subjective and objective assessments.
Measure and display L&D insights to analyze the impact of upskilling and learning on employee turnover, engagement, productivity and on business performance and revenue.
With an intuitive analytics dashboard, view learning outcomes & metrics to measure impact on job performance and on business outcomes.
Identify potential versus performance by tracking the learning pattern of the employees and evaluate its impact on job performance.
Get a personally-tailored roadmap of lateral and vertical career paths to compare role readiness for potential roles.
3. Accelerate learning with high-quality L&D content
Content is the core of any corporate learning and development program. Hence L&D leaders need to strategize, manage and execute it effectively.
Here are a few points you should consider to strategize and develop quality content.
Conduct a "needs" analysis to understand what type of content different teams of the organization will require.
Determine whether you will curate or create content, strike a balance between the two.
Opt for an LXP that provides the flexibility to integrate with various content providers.
Create targeted learner profiles for every function and define the content requirements for each profile.
Determine the resources required for developing, managing and executing corporate learning content. For instance, with an LXP, you can easily integrate with third-party apps and manage all your content on one platform.
Shortlist sites from where you want to curate content and obtain permissions before sharing or reusing content.
Tailor content to individual, job roles and learning preferences.
Determine the formats in which you will present your content, like a blog, video, podcast, etc., or merge them to create a cohesive content journey.
Use a blended approach to give employees an interactive platform, so that they don't get bored with one type of content.
Align content journey learning requirements, develop course design visions and set up a course creation flow.
Experiment with the length of the content. For instance, introduce a topic through bite-sized microlearning content and then elaborate the concept through detailed courses and assessments.
Use visually appealing elements like images, flashcards and infographics to make the content engaging.
Avoid a one-size-fits-all approach and tailor the content to each learner profile's needs.
Regularly assess, identify and mitigate scrap content that's not consumed or applied to work or which would not be beneficial to the learners to achieve their end goals.
4. Embrace the power of learning analytics
Have your corporate learning initiatives succeeded in making employees job-ready?
Could it improve employee performance?
Did it drive the expected ROI?
Could it unlock internal mobility opportunities?
Did it impact the business's bottom line and help achieve set objectives?
It is crucial to measure and analyze your training programs to answer all these questions and make data driven decisions about your corporate learning and development initiatives for the business.
Using state-of-the-art technology with advanced analytics you can easily obtain visibility into all phases of the 4 -S skilling cycle to take real-time action.
Here is how you can harness the power of technology and access important data and analytics, to continuously improve your corporate training program:
Track learning metrics such as total learning hours, number of assessments currently running, average completion rate, number of active learning journeys etc., for the entire organization or slice and dice information for specific teams. For instance, you can apply filters to see how many learning modules are completed by the sales team.
Obtain a consolidated dashboard view of all the learning-driven insights for different teams on one platform.
Determine if employees are engaging with the learning modules
Track the overall completion status of learning journeys and their assessment score.
Calculate the average skill score through the manager and self-assessment.
Measure improvements in benchmarked skills by role or for your entire organization. .
Monitor each phase of the skilling cycle to determine what's working and what needs to be enhanced in the learning and development process.
5 Corporate learning best practices
Ineffective skilling programs can have a detrimental impact on employee performance and business health. So what's the best way to upskill employees? Well, here are five best practices for corporate learning and development that will help you elevate employee engagement and learning experiences in your organization by upskilling your workforce at scale.
1. Leverage AI – Make learning personalized
You can make the entire corporate learning journey right from onboarding to upskilling an employee, seamless and engaging by personalizing it using an AI-powered LXP (Learning Experience Platform). This will allow employees to move higher in their career ladder and facilitate career mobility. Personalization is a learner-centric approach that focuses on individual interests and skill gaps.
Personalized learning helps provide the "Just for me" learning experience that employees receive on various over the top platforms. With an AI-powered LXP, you can tailor content to employees' unique needs, skills, job roles, learning preferences and career goals.
2. Provide assessments – Analyze the training needs
It is crucial to identify a learner's current level of competency and skilling requirements to make corporate training effective. Evaluating the training needs helps in creating a targeted plan for addressing the right areas of improvement and bridging the skill gap.
An advanced technology like an LXP simplifies the process of conducting training need analysis by enabling you to conduct various assessments like proctored quizzes, 360-degree assessments, proficiency level adaptive assessments, and technical assessments. Connect with our team experts for a demo to understand how our LXP can help you conduct skill assessments and design impactful skilling programs to achieve your business objectives.
3. Blended learning – The art of merging two powerful Learning techniques
As per research.com, 34% of successful companies use a blended learning approach.
Most companies choose either synchronous or asynchronous learning for employee training. Making this mistake of not blending the two impactful learning methodologies keeps companies from developing the required skills to boost employee productivity.
Blended learning gives employees the best of both worlds to ensure effective employee skill development. For example, the Sales leader needs to sharpen the email follow-up skills of sales professionals. He/she can share techniques on how to follow up with a prospect during a live classroom session, and then assign courses with templates and use cases that sales professionals can access at their convenience.
4. Experiential learning – Transform learning into practice
It is correctly stated that "practice makes perfect". Therefore companies should give employees a first-hand opportunity to apply corporate learning to their work. Experiential learning puts learners in a cycle where they are learning, reflecting and experiencing the knowledge by applying it to real-life scenarios.
Make sure the learning journey has assessments on real-life use cases that enable employees to integrate the newly acquired knowledge into situations they will face in their daily work routines.
For instance, ask a customer service executive who's recently trained in problem-solving skills to explain how he will handle a client who is agitated with the software and the customer service. It has just been a month, and he wants to discontinue the services. He is even asking for a refund. Once the employee explains what he will do in this particular situation, conduct a mock call to find out how the CS executive handles the situation.
5. Mobile learning – Increase learning adoption with microlearning
M-learning is the best way to give employees the freedom to learn at their own pace from anywhere at any time, and increase learning adoption especially for frontline staff. For instance, a marketing team is waiting for a product demo, and there is a system issue that the IT professionals are fixing, so they can utilize the time to complete a microlearning module. With on-demand training through digital learning, you can skip the cognitive overload and speed up the skill development process by disseminating information at the right time.
Conclusion
A robust corporate learning and development program is currently a necessity as most of the modern, growth-focused employees are looking for career advancement opportunities. Hence to boost retention and gain a competitive edge, it is crucial to have a robust corporate learning framework. So that is why we came up with this extensive guidebook.
Here are a few takeaways from this resource:
Establish and nurture a continuous learning culture.
Begin from the first day of an employee joining a company with a strong onboarding process and continuously strengthen the employee's skills by offering learning in the flow of work.
Plan your entire skilling journey.
Speed up role-based skilling by implementing the 4-S skilling cycle.
Review and refine your learning programs by amassing the right learning analytics
Leverage an AI-powered skilling technology to personalize the entire skilling journey
Make corporate learning skill based, AI driven and personalized with an advanced platform like Disprz LXP. It is a cutting-edge learning technology that helps you drive employee and business growth with its rich features. It not only helps identify the right skills needed for different job roles but also assesses the current levels, drives hyper-personalized learning, and makes available insightful analytics that link back skilling to business performance.
Request a demo to find out how Disprz LXP can amplify growth and productivity in your organization.

Sign up to get free resources and stay up to date with Disprz!
Discover how Disprz can align learning and upskilling with your desired business outcomes.